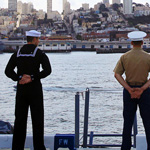 Military personnel seek low interest personal loans for credit card debt consolidation, car repairs, furniture, home repairs, and to pay past-due bills. Military-Credit.com offers personal loan options with competitive rates for members of the Army, Navy, Marines, Air Force, Coast Guard, and all active duty and retired government civil service personnel.
Be a pioneer. Military loans provide a fast and affordable way to get your financial affairs in order.
Even if you have applied for an unsecured personal loan and have been turned down in the past due to bad credit, consider applying for an online military loan at Military-Credit.com. The loan application process involves only a few simple steps, and in many circumstances you can be approved in minutes for amounts up to $40,000.
Make the smart decision - apply for an online military loan today and financial security can be a reality.
Get Started