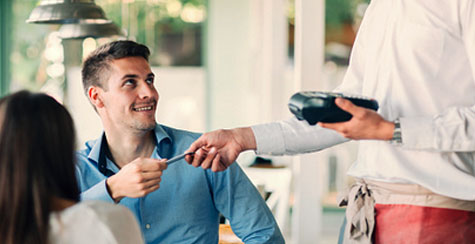 As an active duty military member or veteran with good credit, you have a strong chance of being approved for a military credit card with no foreign transaction fees, low interest rates, no annual fees, travel points, balance transfer capability, and cash back rewards. In addition to the savings from lower interest rates, a military credit card can give you cash back, airline tickets, gift cards, and more! With a premium military rewards credit card, you get up to 5% cash back on gas and military base purchases on your first $3,000, 2% on groceries up to $3,000, and an unlimited 1% on all other transactions. As someone who is financially responsible, you understand that money goes a long way when managed wisely and these rewards really add up.
Military spouses can apply for a military credit card, too! When you and your spouse both have a military rewards credit card and use it for everyday purchases, each monthly statement can bring you a haul of perks and money.
The best way to continue your financial success is to maintain your good credit rating. You and your family can earn discounted vacations or extra cash to put into savings. These credit cards with favorable rates, terms, and rewards are reserved only for military members and spouses with good credit. Apply for your military rewards card and start earning now!